I just installed TurboTax Deluxe 2005 for the Mac (Intuit annoys me, but TaxCut discontinued their Mac version). Their installation program includes the following End-User Licence Agreement dialog-box::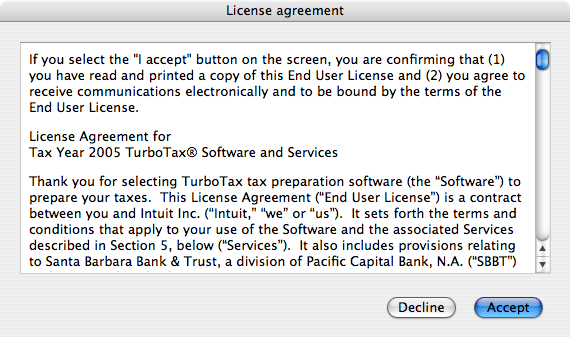 Notice anything missing in this agreement that asks me to confirm that I've read and printed a copy? Like, say, a way to actually print the stupid thing? No print button, no menu items functioning, not even a way to resize the tiny window. About 20% of the way down (just below the part saying I agree to notify them promptly if my email address changes) is a note saying:
(f) Printing. You may print this document by clicking on the print button or by going to the TurboTax web site at www.turbotax.com to access and print a copy of it.
Of course, there's no print button and no indication of where on their website this elusive copy of the EULA can be found (I eventually found the link in the fine print at the very bottom of their page).
And I'm trusting these guys with my taxes?