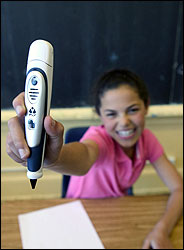 Image: Leapfrog
The NYTimes has a write-up on Leapfrog's Fly Pentop Computer, which essentially merges the Anoto Pen technology with a speaker and what sounds like some very clever games & applications, all wrapped in a $100 pen. Supposedly it's for the 8 to 14-year-old market, but I'm thinking it might be good for this 30-somethinger as well.
(Thanks to Ted for the link.)
Update 11/25/05: I picked one up at Fry's a couple days ago — here're some thoughts on it.