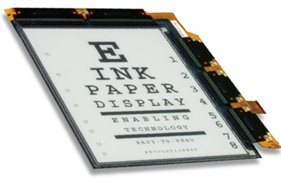 E Ink just announced it will be offering prototyping kits that include a 6″ diagonal, 170 pixels per inch, 4 gray level e-ink display. Like all E Ink displays, it only needs power to change the display, not to maintain the image. The kit also includes a development board with a 400 MHz Gumstix single-board computer as well as I/O boards for MMC, Bluetooth and USB.
No word yet on prices, though their kits page says order forms will be available soon. Kits will begin shipping November 1st.
Update 9/27/05: fixed typo (I'd said it needs power to change the display but not to update it, which makes no sense).
Update 9/29/05: As Andrew points out in the comments, they've now posted their order form and the kit is $3000. Not cheap, especially considering you can get your own Gumstix for $159 and a Sony Librié for $419. (You could also get a Toshiba DCT-100 for just $229, though I believe that's using one of Kend Displays' ChLCD display.)